Local theatre company ANDSOFORTH (ASF) returns with yet another immersive dining theatrical shindig. This time, they tackle Valhalla and the Chambers of Asgard. Heads up: spoilers alert!


For those unfamiliar with Norse mythology, Valhalla is the place heroes go to when they die in battle. Valhalla is also ruled by Odin, the god of wisdom and poetry, whom you'll get to meet later in the experience. 
As with past editions curated by ASF, the location remained a secret and was only revealed to us 24 hours before via text. Don't be late, as you'll be granted admission together with the group you're in. To enter, recite the poem which will be sent to you as well. 


Inside, a viking and your welcome drink awaits you. Because those inside are improv actors in character, they're ready to react to anything you throw at them — so feel free to play along! For the welcome drink, we were served an extremely strong potion of Highland Park Whisky.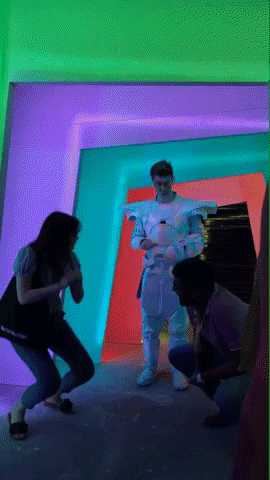 Inside the first room, you'll eat and gather just like warriors do before war — this includes singing, toasting, and lots of swearing (yes). It was liberating, to say the least, to be able to behave without restraint for that 30 minutes — even bread throwing was allowed! We were also taught how to say 'cheers' the vikings way, which certainly made downing a tipple or two all the more exhilarating.



As this is a dining experience, you'll receive five courses throughout the entire experience. For the first course, we were treated to a delicious bowl of Lamb Stew with Viking Bread.



In this second room, the Balcony of Protection, we met a sweet viking who thoroughly entertained us and also warned us about the future of Valhalla. Here, the audience can get hands on by creating a 'magic potion' with actual ingredients, all with the guidance and teasing of this beautiful viking. 


Here, we were served Charcoal Salmon with Tomato Porridge. The kitchen did a fantastic job in catering to the tastebuds of Singaporeans as the salmon wasn't too salty, and the portion was pretty generous as well.



Next, we entered a misty blue room which bore some resemblance to a God's Bath and met Thor and Loki.



As in the stories, Thor and Loki argue excessively and poke fun at each other. We won't give too many spoilers, but the audience had to give Loki some words and he crafted a poem on the spot — kudos to the actor for actually writing a poem in real time!



All these while enjoying a Cheesy Croquette as our third course and drinking another shot of Mead.



After the brothers, we finally met with the beautiful Freya who gave us the choice of narrating the future of Valhalla, which includes choosing between her or Odin to kill. 


We were also given a rousing aerial performance between sips of Truffle Mushroom Soup! Of all the rooms, we enjoyed this one the most as it sparked the most conversation between Freya and the audience. The conundrum Freya posed (to kill her or Odin) also served as a reminder to us that in real life, the easy way out might not be the right way.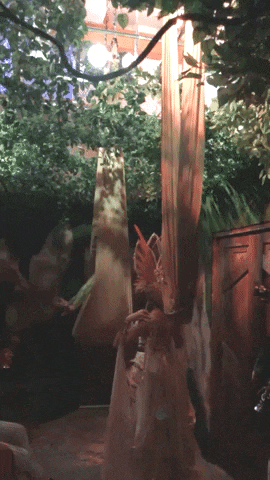 We finally met Odin in the last room, and at this point, we have to give it to the costume department for nailing all the outfits. 


This room, designed like a chapel, gives opportunities for interaction with Odin — and perhaps to hear his side of the story. As a sweet ending, we were served Honey Lavender-Flavoured Ice Cream with Berries and Bacon Bits. A true victory indeed! 


And in true vikings form, we were led to a hall for some games and challenges. 


With this gorgeous set up, you can finally take all those IG photos you've been waiting for the entire night. 
ASF's Valhalla and the Chambers of Asgard experience will take slightly over two hours; but trust us when we say it'll feel shorter than that. Huge applause to the team for turning this around in such a short time (we were told the actors only had two weeks of rehearsals) and everything else was sublime, right from the acting to props to costumes and makeup. That said, each experience will differ slightly due to audience participation — so all the more you should engage! 
If you've never been to a theatrical dining experience, we highly recommend that you check this one out, even if you're not a fan of Norse mythology. While it may or may not transport you to another world, it'll at least make you feel the excitement and joy that's hard to find from other attractions these days. We're already anticipating ASF's next adventure and would definitely go back! 
Tickets to ANDSOFORTH's Valhalla and the Chambers of Asgard are priced from $108. Get your tickets here.