It's barely been a few days since we rung in a brand new decade, and Haidilao has already brought us some exciting news. The famous hotpot chain has opened a new outlet at Marina Square, and it's also Singapore's first smart restaurant. 
This comes after Haidilao introduced an AI-powered restaurant in Beijing last year, and Singapore is the first outside of China to bring in this concept. The new outlet promises an immersive dining experience with augmented reality — instead of a traditional restaurant setting, customers will be treated to sick futuristic views with sound and light displays. 
However, here's what we're looking forward the most to: robot waiters!
Instead of human waiters, your food will now be served by robots. Yes, that also means your la mian will be tossed by robots themselves. Soup bases will also be prepared by machines and these machines can cater to individual tastes and preferences. Here's the best part: your favourite soup bases and recipes will automatically be uploaded and recorded onto their cloud for your next visit. Talk about good service.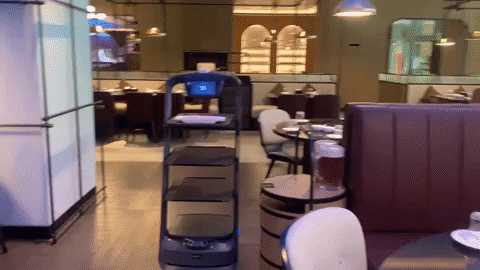 The restaurant also aims to use virtual and augmented reality e-gaming so customers can play games while waiting for a table. Queueing three hours to dine at Haidilao? No problem. 
Below, more pictures of the AI-powered Marina Square Branch. Get excited!
HAIDILAO MARINA SQUARE
Location: 6 Raffles Blvd, #01-19 to 25 Marina Square, S409057
Opening hours: 10.30AM – 6AM