Take the road less travelled by exploring these hidden spots around Southeast Asia that will incite wanderlust in you. Some are not easy treks for the faint-hearted, but nothing good ever comes easy. If you're looking for an ethereal cultural surprise, head down to East Timor and Mrauk U in Myanmar for some archaeological adventures. Sick of Bali? Try Camiguin in the Philippines. Don't limit yourself to this list – if you look hard enough, you can definitely find somewhere enthralling to visit on this Earth that has so much to offer.
1. Flores, Indonesia
If you're all for adventure, head down to Flores in Indonesia instead of tourist hotspot Bali. There, you can witness volcanoes, padi fields and come up close and personal to Komodo dragons.
The Kelimutu Volcano is has three summit crater lakes of different colours, changing regularly from blue or green to red or black due to minerals in the crater. The locals consider it a resting place for the departed souls. The tough hike up to view this natural phenomenon makes it all the more mystical.
Although there are many rice fields in Flores, there is nothing like this one. The Lingko Spider Web Fields in Cacar is a large piece of land set in patterns that look like a spider web.
Humans share the island just slightly further off from Flores with majestic Komodo dragons. The Komodo Island is littered with steep hillsides that glisten green during the wet season, and are a deep muted rust the rest of the year. The giant lumbering Komodo dragons can be found all over the island on beaches and dry riverbeds – these creatures can grow up to 3 metres in length. There is a fishing village of Kampung Komodo that is an hour-long walk south of the main city of the island, where village houses perched on stilts over the sea are a welcome sight to the uninitiated.
2. Camiguin, The Philippines
In the Philippines, you will find one of the whitest beaches in Southeast Asia. On the second smallest island in the peninsula, that is. Camiguin boasts one of the most pristine beaches, and with over 20 volcanoes 100m-plus high, it has more volcanoes per square kilometre than any other island on earth.
Besides the usual diving, snorkelling, sandy beaches (except for offshore ones, beaches have brown sand), waterfalls (like the Binangawan Falls) and hot and cold springs, Camiguin offers the chance for jungle trekking, volcano climbing, rappelling and anything else the adrenaline junkie desires.
Also a popular tourist site, a gigantic white cross floating on a pontoon in the bay marks the spot of the Sunken Cemetery, that was engulfed by the sea following an earthquake in 1871. It's a popular snorkelling and diving spot where snorkellers can see the tombstones now relocated to the seabed.
3. Mui Ne, Vietnam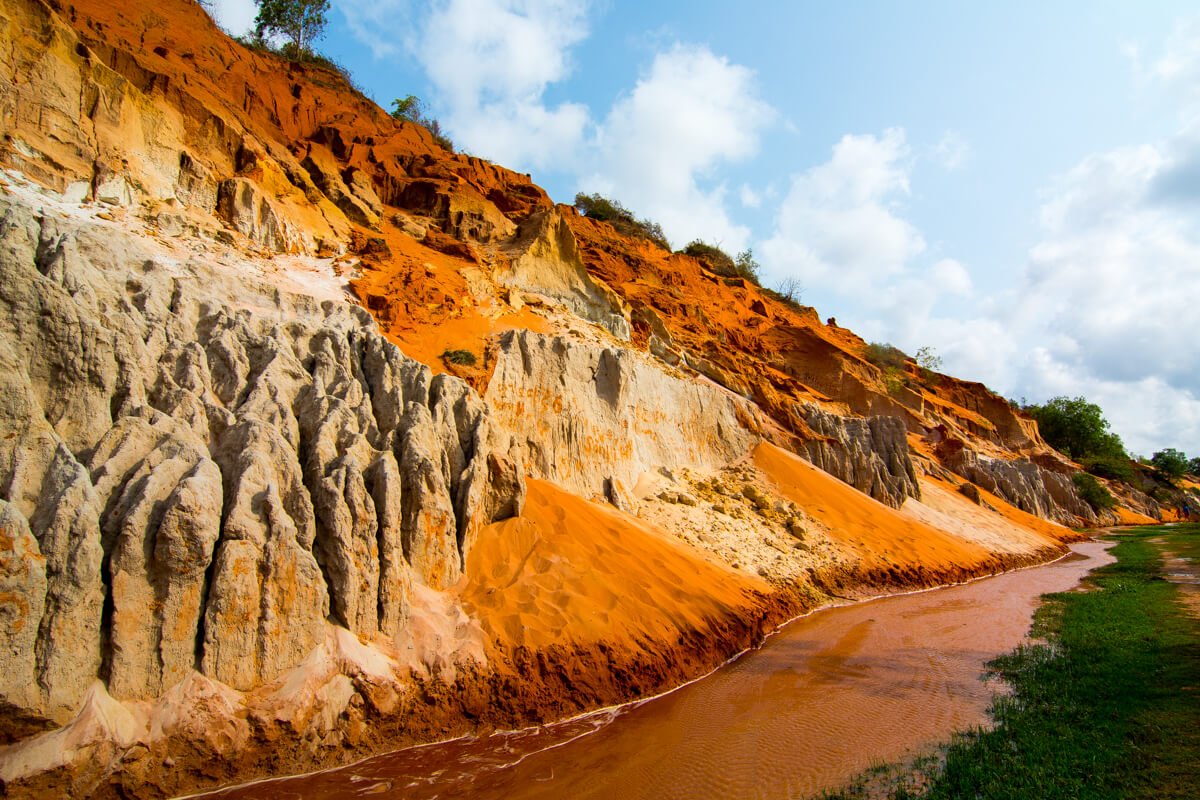 The last place you would expect to see sand dunes that could rival those in Namibia and Mongolia, would be in Southeast Asia. In Mui Ne, Vietnam, there are white and red sand dunes that stand majestic near this resort town, spanning along the country's southern coast. Tourists flock to this town just four hours away from Ho Chi Minh City not only for the sand dunes, but for kitesurfing as well.
Besides the sand dunes, where you can rent ATVs to ride down on, there is also the Fairy Stream, a surreal soft red creek that is coloured by clay and limestone particles that filter in from the rock formations at its shores. It resembles a miniature version of the Grand Canyon in places, and the stream is mostly ankle-deep for easy wading in the waters when the ground gets scorched by the unforgiving sun.
A contrasting sight from the sand dunes, the Mui Ne Harbour/Village is a quiet little village, at the north end of Mui Ne bay where fishermen hawk their catches to the visitors and locals alike. The entrance to town overlooks a splendid view of hundreds of colourful fishing boats moored in the bay. While the beaches here are not the cleanest, the fishing village is definitely not something we can come across very often nowadays.
4. Dili, East Timor
East Timor is country rarely treaded by Singaporeans due to its previous political turmoil. Underneath this perception lies a country filled with national pride, its people fighting to rebuild and reconstruct the country and identity. It is largely untarnished by the pervasive hands of modernity, and great for those who prefer the off-the-beaten-track adventures.
Get to know more about Timor-Leste's dark history in Dili's museums and understand how it shaped the country's political scene. Venture out for a thrilling hike in hills and jungles, and explore mountain village markets that offer many handmade goods by locals. Dili is also a stepping stone to access several pristine beaches like the one in Atauro Island where many go to snorkel and dive.
5. Mrauk U, Myanmar
Many overlook the beautiful city of Mrauk U in Myanmar for the more popular Bagan, where many flock to for hot air balloon rides a la Cappadocia in Turkey. While the cities might look alike in terms of their historical sites, Mrauk U and Bagan actually differ archaeologically. The famed temples are smaller and newer and mostly made from stone, unlike those in Bagan that are constructed brick by brick. They were initially mistaken for forts due to their thick walls built for protection from the fierce Rakhine winds.
The temples in Mrauk U sit amidst beautiful paddy fields, small villages with the occasional lazing cow – providing a dream-like, picturesque view that is hard to come by. Every year, only about 5000 foreigners get to visit Mrauk U, so this site remains largely untouched and isolated from the bustle of quickly-developing Myanmar.