Ran out of fun activities to do with your partner? Here are five workshops to consider that will make dates and weekends a lot more exciting. 
1. Ring making
There's no better way to express your unfaltering love for your S/O than to put a ring on it. And it doesn't have to cost you half your life savings either — this ring making workshop by artisan8 studio lets you bring home your own customised ring for just $98. You can either make a closed ring or an open style ring using 925 silver, with the option of putting personalized wording/textures/patterns inside or outside of the ring. Classes are conducted in a cosy size of six, and all tools, equipment and materials are provided. 
Location: 150 Orchard Road, Orchard Plaza #03-06 S238841
Fee: $98/person
Duration: 1 session, 2.5 hours 
2. Wallet making
Forget couple tees — matching bags and wallets are what's in vogue now. No matter your preference, Crafune has a wide range of workshops to create that new tote or card holder you or your partner needs. Choose from classes that teach you how to make passport covers, minimalist bi-fold wallets, crossbody bags and more. Each session also allows you to personalise your product through by debossing or hot-stamping initials, names, words, dates, as well as teach you the basics of leather crafting. 
Location: 2 Haji Lane, #02-01
Fee: From $79/person 
Duration: 1 session, from 3 hours 
3. Pottery making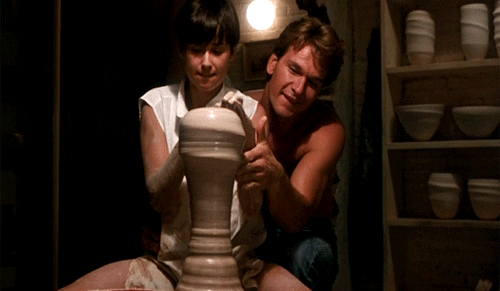 Learning pottery takes patience and time — sounds pretty similar to being in a relationship. If you and your partner are looking for ideas on how to spend the weekends, perhaps this pottery-making workshop by Urth&Phire would suffice and even spark a brand new common interest. Get to learn the essentials in clay making, such as the different stages and processes, using a potter's wheel and electric kiln, and applying glaze. At the end of this 8-session course, you'll get to bring home up to 8 pieces of self-made ceramics in varying shapes and sizes. 
Location: 2 Pereira Rd, #05-02A, 2connectt@TS, Singapore 368024
Fee: $400/person
Duration: 8 sessions, 2 hours each 
4. Furniture making
Are you and your significant other a little more rugged and prefer something unconventional? Get to work with knives, wood and metals at Tombalek's workshops. This local woodworking space offers classes that allow you to make your own such as chair, hammer and even guitar! If you're not sure whether you're really a craftsman, start with their chopsticks making class for beginners. 
Location: 7 Mandai Link #10-22 S728653
Fee: From $180/person 
Duration: Varies for each class 
5. Perfume making
Perfume making may be one of the most common workshops around, but Scent-OSA claims to be the "first in the world" to offer what they do. Located in Sentosa, SCENT-OSA is known as a digital making perfume workshop; instead of a real life teacher, a digital e-perfumer is flashed on a video projection to guide you throughout the entire process. Steps include taking a Perfume Personality Test in which oils would be matched to your results. All scents and oils provided are infused with orchids from Singapore and around the world too. At the end of the session, bring home a 100ml bottle of perfume that you can proudly call your own.
Location: 51 Imbiah Road, Singapore 099702
Fee: $125/person
Duration: 2 hours