After much anticipation, the long-awaited We Bare Bears cafe has finally arrived in Singapore, and it deserves all the hype it's been getting. In case you didn't know, this cafe, in collaboration with Kumoya Cafe, is We Bare Bears' first ever pop-up in the world. So yes, you'll be the lucky few who get to experience the world of Grizzly, Panda and Ice Bear. 
Be greeted by the three bears at the entrance of the cafe!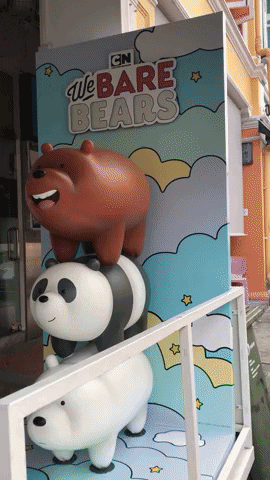 Inside, Kumoya Cafe transforms into a haven for everything We Bare Bears, right from the interior, decorations to soft toys. You can even find characters like Chloe Park and Nom Nom the Koala!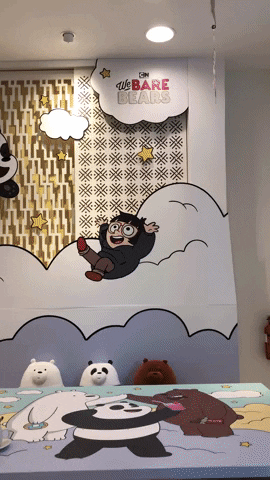 And because the three bear bros love food, of course the menu will offer a spread. Designed by bento artist Shirley Wong and the Kumoya kitchen team, the menu offers a variety of mains, drinks, snacks and desserts. We started off with the Special We Bare Bears Baos with Sweet Matcha ($13.90).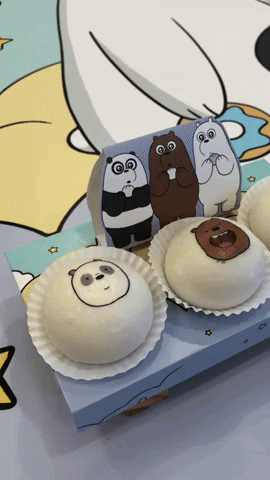 These tiny buns ooze cuteness and are served on an exclusive tray. The matcha isn't too sweet and tastes more like a mild version of kaya, but it acts as a fitting starter because you'll need your sweet tooth for the drinks and desserts.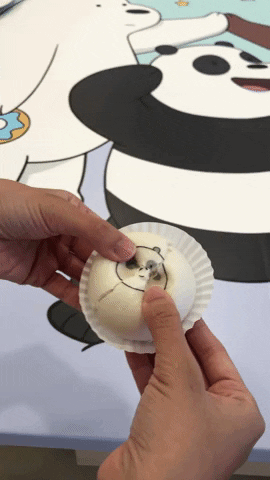 For mains, we opted for the popular Ice Bear Terrific Teriyaki Chicken Katsu Burger ($23.90).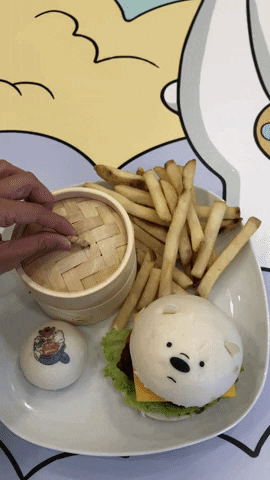 This is a chicken katsu burger that's drizzled with teriyaki sauce and served with fresh garden salad, cherry tomatoes, kamaboko fish cake, star-shaped carrots, golden crispy fries and a WBB-designed mantou. Ice Bear approves! 
To accompany our mains, we got some pretty Instagrammable drinks, like the Mango Tango Frappe with Ice Bear Marshmallow ($13.90), Ice Bear Cool Cup of Strawberry Cheesecake Frappe ($13.90), as well as the Bear Trio Refreshing Iced Lychee Tea ($12.90) and We Bare Bears Butterfly Pea Apple Peach Tea ($12.90). 
The iced teas contain real fruits — huge ones at that!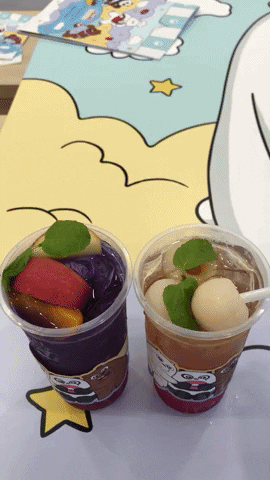 While the frappes may be a little thick, they're more like melted ice cream instead. The Ice Bear marshmallows on top are also specially handcrafted by the kitchen.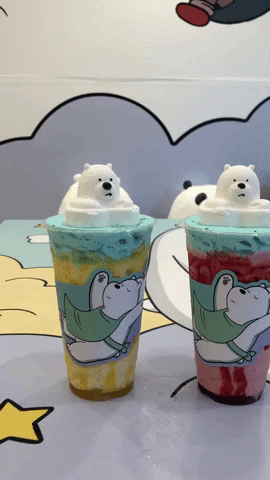 We also got a cup of Masters of Disguise Hot Chocolate ($10.90), which is essentially Belgian chocolate served with fresh cream, pastel sprinkles and a chocolate wafer stick.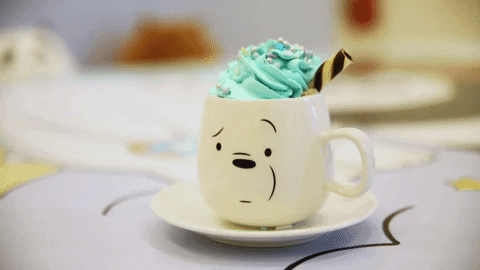 Every purchase of a drink also entitles you to a free coaster!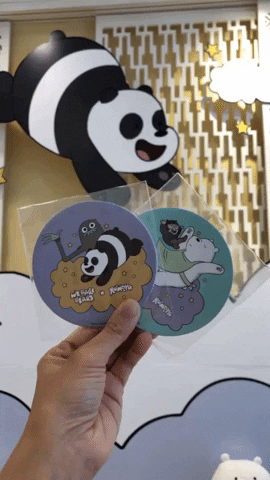 Of course we didn't leave without having our fill of dessert — we couldn't resist the Super Stack-ing Chocolate Brownie Parfait ($20.90). Dig into Hokkaido soft serve with delicious house-made brownie, chocolate pudding, a generous serving of dark chocolate crumbles and a We Bare Bear butter cookie. A perfect mix of sweet and bitter!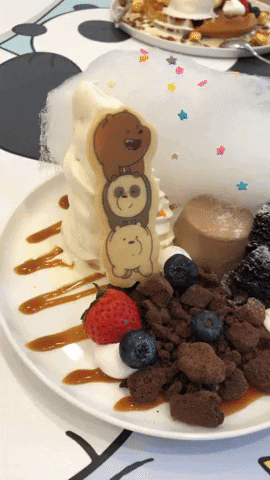 We also went for Grizzly's Favourite Fruity Caramel Waffles ($23.90). For this one, you get to try Grizzly's fluffy homemade waffles with Hokkaido soft serve, souffle cheesecake with caramel and toppings like Japanese dango, berries, popcorn and a macaron. It's basically a party on a plate!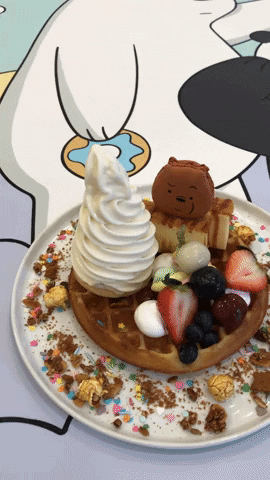 Here's the fun part: get to shop a wide range of We Bare Bears merchandise, from pens for $2.90, plushies that start from $22.90 and pouches for $25.90.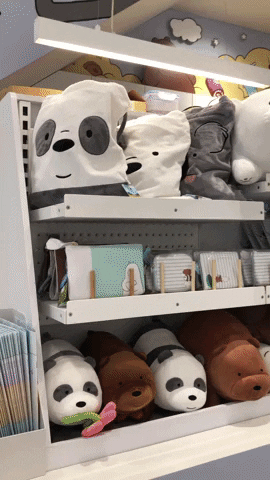 You can get your bear plushies at three different sizes for $22.90, $44.90 and $39.90 (left to right). Available for Panda and Ice Bear too!
We love these fluffy tote bags ($39.90 each) — how unique!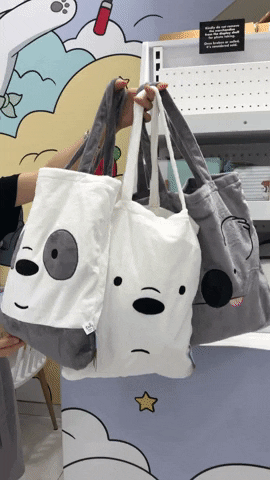 As well as this little wind up toy ($16.90). Now you can keep Grizzly in your pocket anytime with you.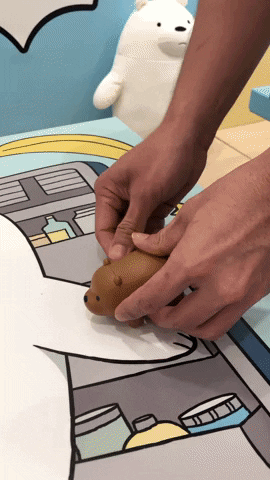 Want to bring home a lil plushie, but find those in store too expensive? Try your luck at the claw machine outside the cafe for $2!