Christmas shopping can be tricky, especially when it comes to tech – what does your friend already have, more so if they already possess most of the new gadgets in the market? On our list, we have hunted down unusual gizmos and functional quality gadgets that will not only help to make life easier, but are aesthetically pleasing as well. While the tech-savvy will definitely be pleased to receive these, we are sure that there is something for everyone among these user-friendly options.
1. Back to the Future Flux Capacitor Wall Charger

source
Perhaps only sci-fi fans will recognize that this wall charger is modelled after Dr. Emmett Brown's time travelling device, but it is so adorable that anyone would appreciate it. It is capable of charging two devices via a USB port at once, and can plug into any standard three-pronged outlet (Type B).
 Purchase it at USD19.99
here
.
2. Plume Wifi Pod

source
Most try to hide their WiFi routers as they are bulky, unsightly and would just clutter up the space. Ironically, routers perform best when placed in the open and in the middle of the room, hence people generally do not get a full streaming experience. Plume's pods utilize the cloud and adapts to your home and needs to optimize your connection. Plug these all over your house and get super fast internet in every corner.
Purchase a single pod at USD69, or 6 for USD329 here.
3. Philips Hue Bulb
What better way to ring in the festive cheer than with coloured lights to set the mood in your house? The Philips Hue Ambiance White and Colour Extension Bulb produces high-quality white and coloured light that you can control from anywhere through the Hue app, and can produce up to 16 million colours. Simply connect the Hue bridge to your internet, and you can control up to 50 Hue bulbs simultaneously. What's more, you can control when you want the lights to be on using the Timer function on the app, turning the lights on at a specific time like before you reach home. Each Hue light bulb uses 80% less power than a traditional light bulb, making it more cost-efficient and eco-friendly.
Purchase it at $89 from
here
, with other accessories available on site as well.
4. Moment iPhone Camera Lens

More often than not, the cheap clip-on lenses we can get at $10 ruin our photos as the plastic lenses make it blurry and sometimes gets into the frame of the picture. Moment has come up with 4 quality glass lenses, the fisheye, wide angle, telephoto and macro lenses for the avid iPhone photographer. Each purchase comes with a clip on mounting plate – the good thing about it is that you do not need to purchase a case in order to mount the lens. However, they do sell a matching case to make it more accessible for people who frequently photograph on their iPhones, with a DSLR-like shutter button, cinema mountable glass, and a camera strap attachment. They have other accessories like leather neck straps, a lens cap, a lens pen, and more.
Purchase the lens at USD89.99 each here.
5. Stacked Magnetic Portable Battery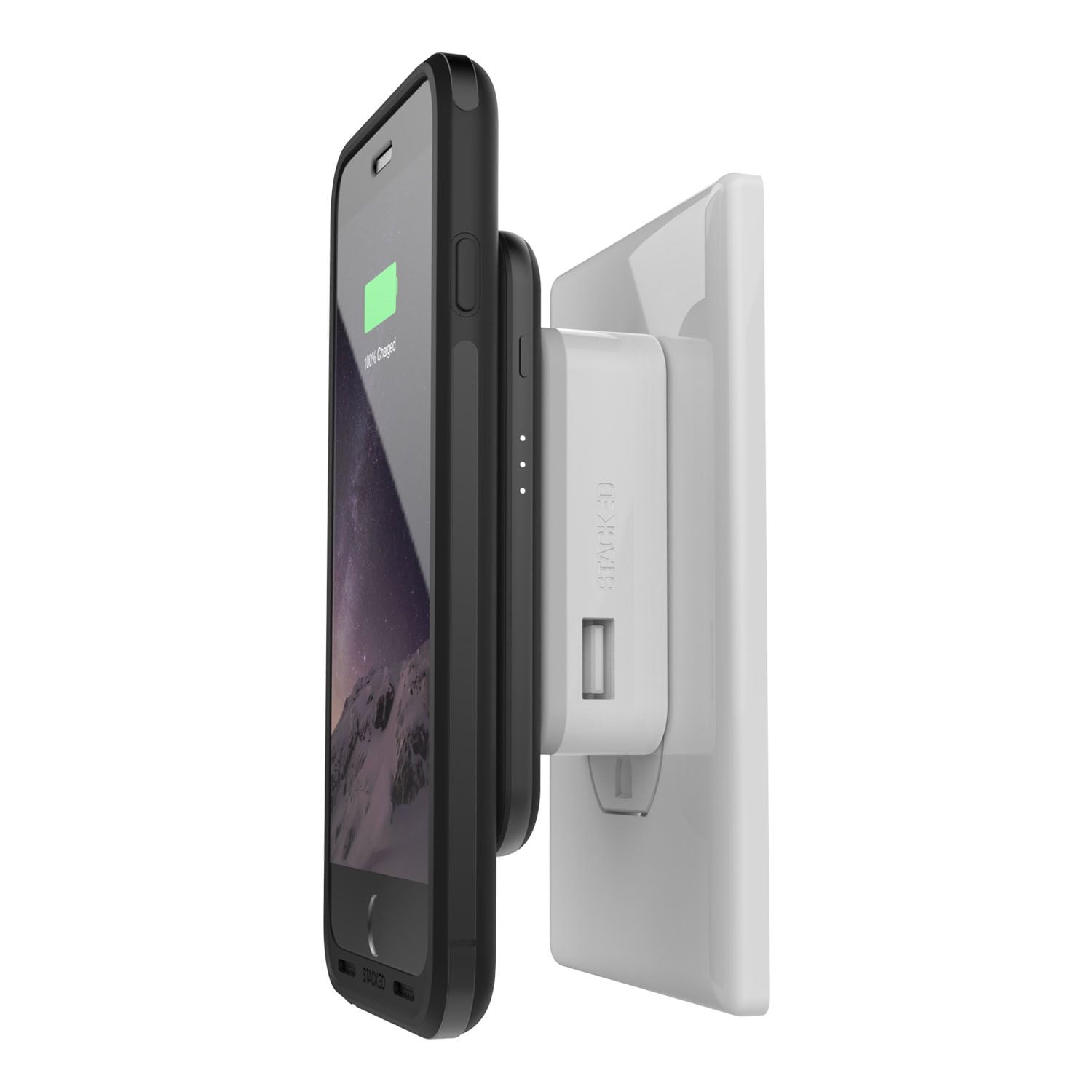 source
Having to carry around a bulky portable charger and cable (and risk losing it) has got to be one of the most frustrating feelings ever, just slightly less annoying than having your phone clinging on to dear life at 2% when you're out waiting for your friends who are late (again). With the Stacked iPhone case, you can charge your phone battery via induction with its special case and battery pack. The battery connects to the case magnetically and the case, which plugs into your iPhone, allows you to charge wirelessly. What's more, at 10.7mm it is the thinnest and lightest wireless charging case on the market at the moment. You can also charge your phone or battery packs with the included wireless charging wall plug.
Purchase a bundle pack including a case, battery pack, charging wall plug and USB cable at USD99.99 here.
6. Misfit Ray 

The wearable tech market is oversaturated, especially with the FitBit and Apple Watch dominating the field. What makes the Misfit Ray so intriguing then? While it can automatically tracks steps, distance, calories, sleep cycles, vibrates to alert the user for call and text notifications, and has a smart button enabled to control connected household devices, one feature that sets it apart from the rest is that it does not need to be charged. Its non‐charging, replaceable batteries last up to 6 months so you can wear it for as long as you please.
Purchase a Misfit Ray from SGD122.90 here.
7. Nest Outdoor Security Camera

source
The weatherproof Nest Cam is the perfect virtual guard dog of your house. Connected to the cloud, it sends an alert to your phone when it detects activity around your home. It also allows you to talk through the Nest app, to tell the postman where to place your parcel, or maybe shout at your dog to stop digging up your garden. It provides 24/7 live video coverage, a 130° wide-angle view in super clear 1080p HD, and allows you to record everything.
Purchase it at USD183 on Amazon.
8. BackBeat PRO 2
source
With active noise cancelling, wireless freedom and immersive audio, BackBeat PRO 2 is the audiophile's dream come true. You never have to worry about your headphone wires snagging onto someone's bag as you exit the bus and getting painfully yanked out of your ears ever again. An interesting feature is their open-listening mode where smart sensors pause your music the moment you take off your headphones, and resume when you put them back on.
Purchase it at $199.99 here. 
9. Polaroid Zip Instant Mobile Printer

source
This handy mobile printer allows you to print photos directly from your iPhone or iPad. You can even edit the photos and add emojis and doodles before printing them. Printing is easy as it just requires a bluetooth connection and then a push of a button. These wallet sized 2×3″ photos are full colour and smudge proof. printed on a peel-back sticky paper that allows you to paste it on your walls.
Purchase it for SGD229 here. 
10. House of Marley Stir It Up Turntable
Audiophiles will be delighted to receive this eco-friendly turntable by House of Marley, with an 11″ aluminium platter and a beautiful bamboo plinth. Its compact size makes it less bulky than most turntables, helping to save space while saving the earth with its Regrind™ and Rewind™ initiative to use natural or eco-conscious materials. The Stir It Up turntable also comes with a 3.5MM headphone jack, making it more user-friendly than the iPhone 7 in our opinion.
Purchase it at SGD388 here.